As a hunter, you definitely need a good skinning knife. I know as well as anyone that trying to skin a deer with a sub-par knife is no fun and that makes the whole process much harder. With a nice and sharp knife, skinning is a breeze and the whole process is much more enjoyable. It is also nice to have something that is comfortable to use and easy to maneuver around. I have used dozens of knives during my time outdoors, but today I picked a few knives that I have put to the test while skinning whitetail. If you need a new skinner, I guarantee that one of these knives is perfect for you.
Why Other Reviews Suck
If you are a real hunter, you know how valuable a real anecdote is. I finally got sick of reading crap reviews from people that have never held the knife they were talking about in their hand. So, while I will provide you a link to each of these knives, they are all knives I have actually used in the field. Unlike my competitors, these reviews are not a copy and paste of the description on Amazon. Okay, mini-rant over… Let's look at what makes a good skinning knife.
In a Hurry? Here Is My Favorite Skinning Knife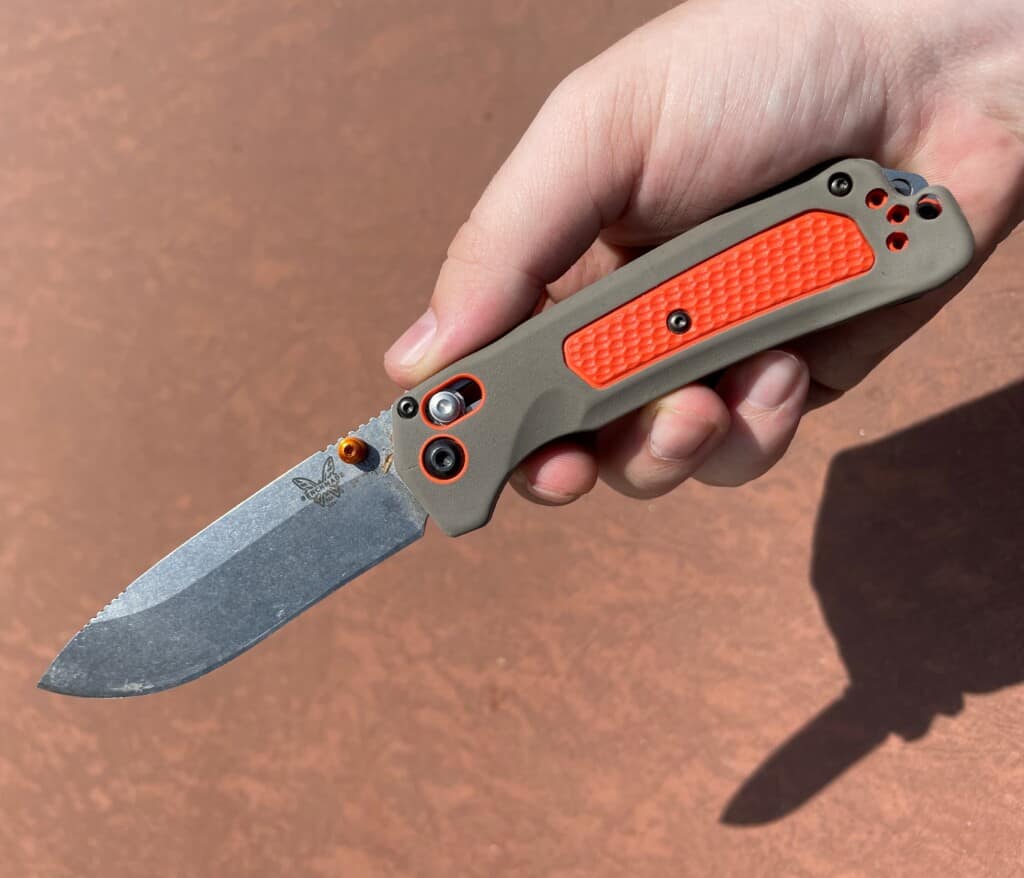 This is The Benchmade Grizzly Ridge, and it is the best all around knife on this list. While this is a folding knife, and can be used as an everyday carry, it works perfectly to deconstruct any animal. It is 7 ¾ inches long when unfolded with a 3 ½ inch blade. The blade is made of S30V steel which is very hard and holds an edge for a very long time. Plus, it comes out of the box extremely sharp.
I love this knife for the blade design and how comfortable it is in my hand. The rubberized grip makes it easy to hold on to. The blade is easy to maneuver, and it also allows you to make a precision cut when necessary. Being a folding knife, it is also super easy to carry and have with you at all times while outdoors. Not to mention the action of this knife is extremely smooth and easy to open.
What Makes a Good Skinning Knife
To have a good skinning knife, you want something that you will be able to maneuver however you need. This knife should be on the smaller side, and lighter by default. Personally, I like a knife that is just an inch or so longer than my hand when my pointer finger is straight out. A knife like this lets you get into all the small spots you will run into while skinning.
As for the shape of the knife, I recommend a drop point, or clip point knife. These designs just make it easier to penetrate hide when needed, and also keep you from cutting hide or meat unintentionally while skinning. 
You also want a knife made out of quality steel so that it will stay sharp while you are using it. Most of your cheaper knives will dull really quickly. I have been frustrated many times trying to use a cheap knife just to have it get dull when I am half way through my first animal. You want to look for a high carbon steel. Stainless steel is common in your cheaper knives, but the harder the steel, the longer it will hold an edge.
The ergonomics of a knife are also important. If it is a great knife, but you just cannot hold onto it, then it is just not right for you. The handle obviously needs to be big enough for your hand, and it needs to be made of a quality material. A knife can be made of the best steel in the world, but if it has a junky plastic handle, it will not be easy to use. 
All and all, to make a good skinning knife you need a smaller knife that has either a drop or clip point, quality steel, and a comfortable handle. Now that you know what to look for in a good skinning knife, let's take a look at a few!

The Buck Skinner
The Buck Skinner is a newer addition to my line up, but this knife is an all time classic that you could never go wrong with. This knife is a good size. At 8 ¼ inches it still fits nicely in a backpack and provides a little more to hold on to if the little fin was too small. The blade is 4 inches long, leaving the handle to be 4 ¼ inches. This knife is also well balanced, and comes with a genuine leather sheath (made in Mexico). The sheath design has changed over the years, but currently it has a single button snap which I have not had any issues with.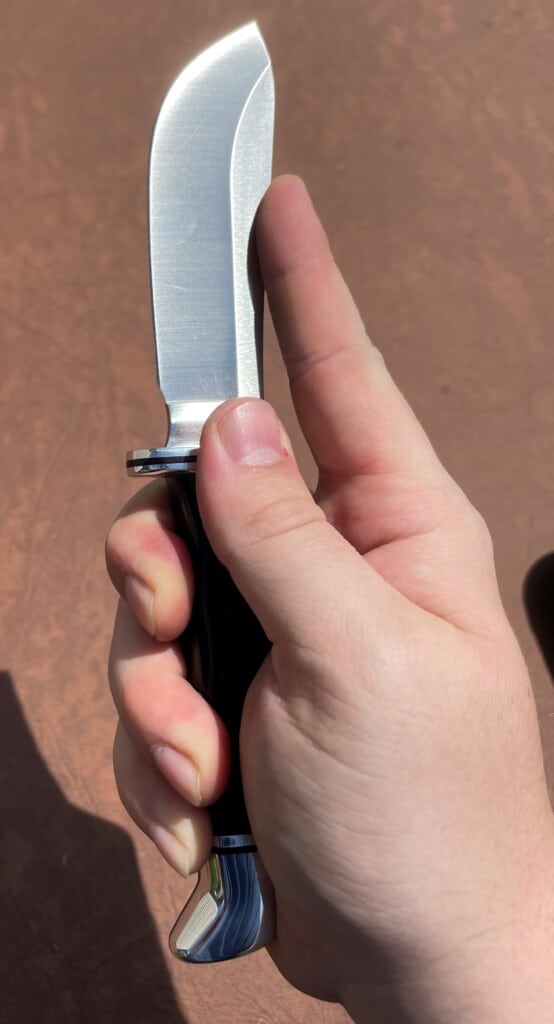 The buck skinner is made up of Bucks famous 420HC steel, which will hold an edge for a very long time. The blade design itself really helps when it comes to skinning. That big flat design really lets you get in between hide and flesh. Although the Buck Skinner is useful for just about any cutting job, not just skinning. 
The knife itself is much lighter than my other skinning knives. I generally like a knife to have a bit of weight to the blade, so this one is lighter than my average knife. The knife is still balanced so the handle is just as light. 
The handle feels a tad slick at first. It is made of "Traditional Black Phenolic" which is "fancy" talk for "really hard and durable plastic like material". Although it feels like your hand might slip, my experience has proven the opposite. Even when this knife got wet it was still very easy to hold onto and my hand never slips. 
If you really love the design of this knife but want something a little extra, Buck has made a pro version of it that has a higher quality steel and improved handle. This improved steel is so tough that it cannot even be engraved, so I am confident it would hold an edge for a very long time. The handle is made of "Canvas Micarta" which looks cooler and provides improved ergonomics.
This knife is just plain great, but the name standing behind it is even greater. Buck has a forever guarantee, and a free sharpening service. If you lose this knife, or somehow break it, they will replace it no questions asked. Plus Buck is an American company and these knives are 100% made in the USA, although the leather sheath is made in Mexico. With the quality of this knife and the guarantees Buck provides, this knife can be used for generations. 

The Benchmade Grizzly Ridge
The Benchmade Grizzly Ridge is a "do it all" kind of knife. While it is a folding knife, and could be used as an everyday carry pocket knife, I think it also works well as a skinner for many reasons. Starting off with its size, even though it is a folding knife it still comes in at 7 ¾ inches tip to tip. The blade itself is 3 ½ inches, leaving 4 ¼ inches for the handle. Benchmade knives are typically expensive, but they are well worth it in my opinion.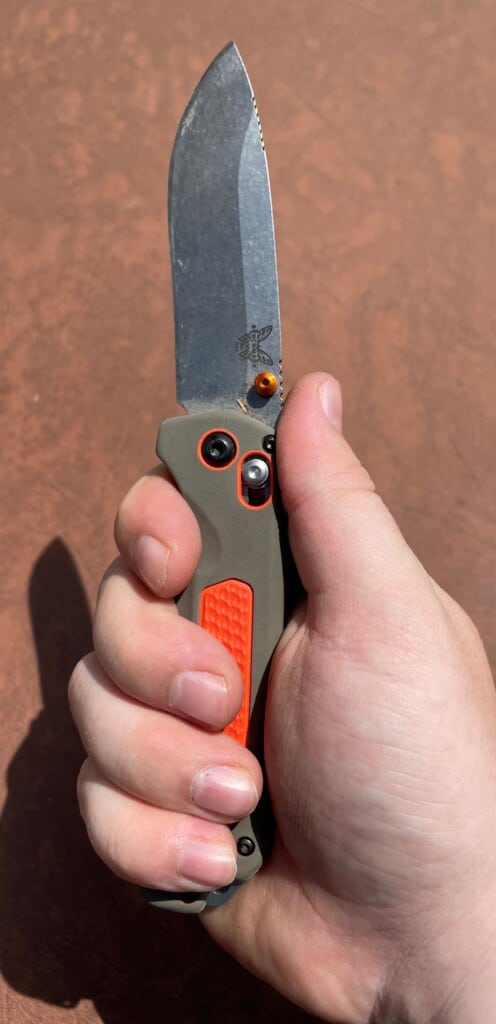 Being a folding knife, you lose the ability to have a full tang. However, I do not think that is such a bad thing in this case. The knife is still very well balanced and feels sturdy while still having a good amount of weight in the blade. This knife perfectly balances right at the indent where your pointer finger goes, so holding it feels natural and you do not have to constantly adjust.
The blade itself is made from S30V steel which holds an incredible edge. Not to mention, this knife comes out of the box sharp enough to cut the skin off your teeth. The blade also features a nice drop point that makes it easy to skin and cut any part of an animal. 
On the top of the blade, there are also some cut outs that give your finger a little more to hold onto while making a precision cut, which I appreciate.
The action of this knife is so smooth you might think it was assisted at first. There is no doubt that the action on this knife is one of the smoothest knives I have ever had. A Benchmade never disappoints me.
The inside of the handle seems to be made of rigid stainless steel. It then has some orange plastic covers over it, and grey rubberized material over that. The plastic does not feel cheap, and the rubber is easy to hold on to.
The only negative about this knife is that the rubber can start to peel off at the bottom. It is nothing a little super glue can't fix, but it is also covered by Benchmades warranty and they will send you a brand new one for the price of shipping.
Much like Buck, Benchmade has a forever guarantee and free sharpening service. A family member of mine actually lost his Benchmade and after reaching out they sent him a brand new one. They do an excellent job sharpening them as well. If you want something that is still super well made, but small enough to fit in your pocket, the Benchmade Grizzly Ridge is the knife for you.

The Buck Zipper
Now we are getting into really nice skinners. The Buck Zipper is a great knife. The zipper part implies the gut hook on the end of this knife, I am guessing. Gut hooks are hit and miss with a lot of people. Some people love them, others hate them. Personally, I think they are kind of neat, but the purpose they serve is not as important as the real estate it takes up. Thankfully there is a version without a gut hook.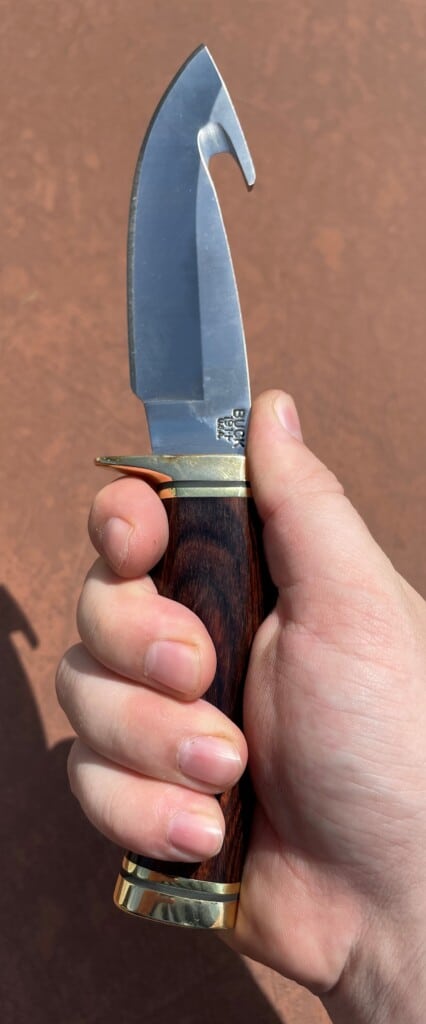 This knife comes in at around 8 ½ inches, the blade is about 4 ⅛ inches, which leaves the handle being 4 ⅜ inches. This knife is definitely heavier than the skinner, and there is a good amount of heft to the handle. Which makes the balance point about three quarters of the way up the handle. 
The leather sheath that comes with this knife is really nice. Although the leather sheath is made in Mexico, the knife is still made in the USA. The design of this sheath is much different than the skinner. The button used to secure the knife is much better, and the mechanism is easier to clip. While there was nothing wrong with the sheath on the skinner, this one is easier to use and I prefer it by far. 
The blade is made of Buck's famous 420 HC which is sure to hold an edge for a long time. Plus, this knife comes out of the box super sharp. The drop point this blade features is a popular design on many of these knives, but that is for a good reason. The drop point just plain works. 
The gut hook is sharper than the knife itself and it works really nicely. Although if you like to put your finger at the tip of your knife to make precise cuts like I do, they also have a version of the Zipper without the gut hook. 
Compared to the Buck skinner, this knife is very different. It is hard to say that one is better than the other, but to me this knife has a better handle, while the skinner has a better blade design. With that being said, it would be hard to go wrong with just about any buck knife, and if you like gut hooks then the zipper is definitely the knife for you.

The Benchmade Hidden Canyon Hunter
This knife feels incredible in your hand. It is a small knife, but it is so well balanced and the handle feels really good. It is no surprise that you get what you pay for with a good knife. This little knife is super easy to carry around with you. The soft sheath has a loop that goes on your belt horizontally, making this knife impossible to see with a normal shirt covering it. I think this is a good everyday carry knife that can also withstand the abuse of the outdoorsman.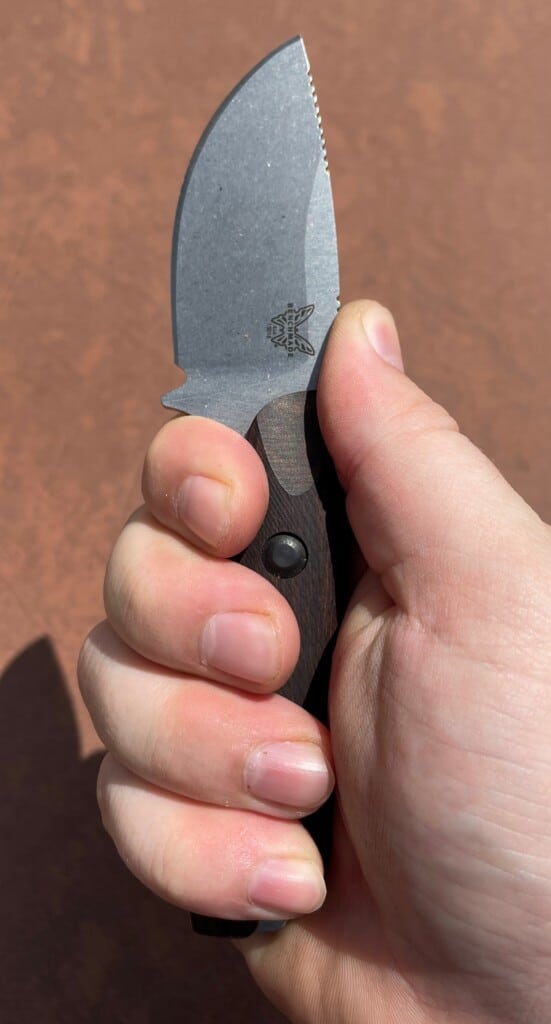 The Benchmade Hidden Canyon Hunter has a 3 inch blade, and 3 1/8 inch handle. Although it is small, it packs a punch. This knife has a full tang and is made of CPM-S30V steel and is easily the sharpest knife I have ever owned. As a skinner, this knife will definitely do the job and if you do not wear it on your belt, it will fit easily in a jacket pocket.
Like I mentioned before, it has a small blade. However, the design of that small blade is extremely efficient. The width of this blade and the drop point make it very good at getting in between flesh and skin. It also has no problem cutting through any part of a deer.
The handle is also really nice on this knife. It is made of real stabilized wood and is very smooth while still being easy to grip. The end of the handle also features a hole for a lanyard if you would like to add one. 
It is hard to say anything bad about this knife. Every time I use it to skin deer, it performs in amazing ways. This knife can do any job in the outdoors. Plus, it is a Benchmade so it is made in America and guaranteed forever, and also gets free sharpening. I love this knife and I will be using it for a long time. I have a feeling you would also love it if you picked one up.

The Ka-Bar Little Fin
I have used this little Ka-bar to skin over a dozen deer, and I have to say that I love it. Coming in at a total of 7 inches long, it is small enough to carry around in a jacket pocket, belt loop, or backpack. While it is small, it is still plenty big enough to hold on to. The blade itself is 3 ⅝ inches long, so the handle is 3 ⅜ inches. While this is a super cheap knife, the steel is very durable. Like I said, I have skinned over a dozen deer with it and only sharped it once.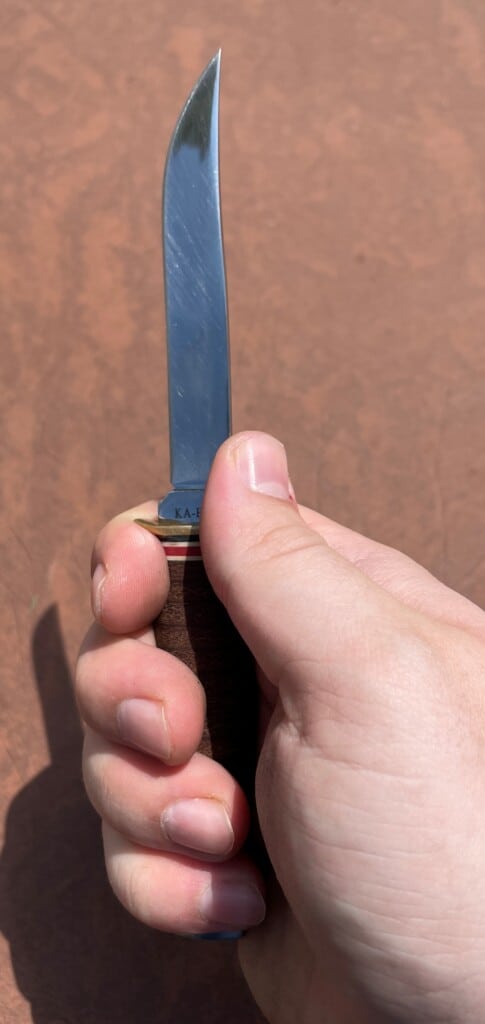 The point on this knife is incredibly sharp, I found that out the hard way. Besides the size, the point is what I like most about this knife. The shape of the point lets you quickly penetrate any animal skin, which makes skinning a breeze. 
The handle is just about the perfect size for me, but if you have larger hands, this knife may be too small for you. The handle itself is made out of a nice leathery composite material. It makes it easy to hold, even if it is wet. I will say that if you do get it wet, set it on the window sill after washing because it does take a little while to dry out.
The little fin also comes with a leather sheath with a plastic insert, so you do not slice through it. The sheath has held up very well throughout use and the button is simple and easy to use.
Overall, the knife is great quality and I have had zero issues with it. Yes there are much better knives out there, but for the price, it is hard to find a knife that will give you a better bang for your buck.
The only negative I have about this knife is that it is not made in America. Typically, Ka-Bar is made in America, but this knife is made in Taiwan, and the sheath is made in Mexico. If you are a Ka-Bar fanboy, this is a huge negative. For me, it is what it is. They did what they had to do to make a cheap, but still quality knife.
The Benchmade Mini Griptilian
Now I know what you are thinking… that's a pocket knife! I know, but it is one of the best pocket knives you will ever own. I have been carrying around the Mini Griptilian for around 4 years now and I have used this knife for literally everything, including gutting and skinning a deer.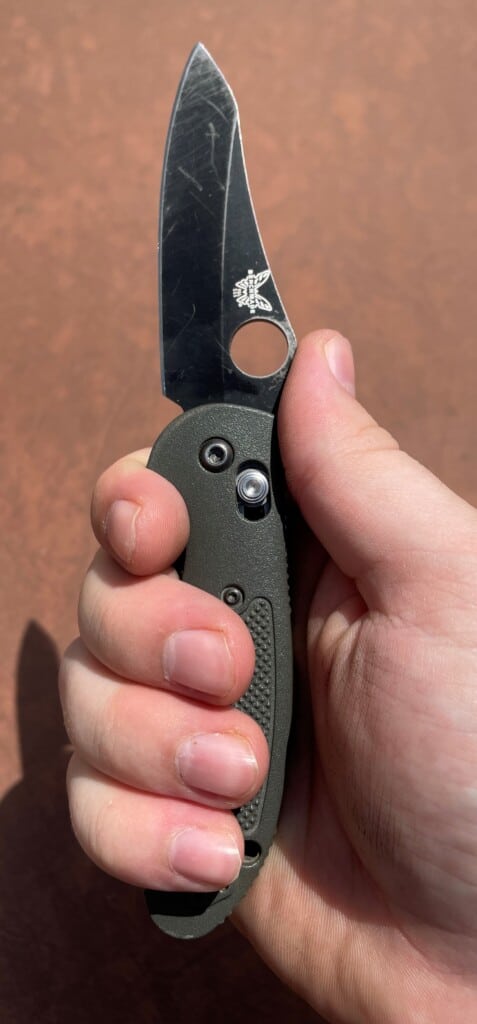 While I would always suggest having a dedicated knife for skinning, things happen and you forget or who knows what else could happen. Anyway, you always need to have a pocket knife that can do any job that you need it to. That knife is the Benchmade Mini Griptilian. 
This knife is 6 ¾ inches when opened up, and the blade is 3 inches long, which leaves the handle 3 ¾ inches. The blade is made of 154CM steel and holds an edge for a while. 
The handle of this knife is made of what seems to be hard aluminum and does not dent for anything, and I have even used it as a hammer. The only bit of real maintenance I have had to do is tighten the three screws holding on the pocket clip. They are super tiny so I did have to buy a kit with a bunch of driver heads to find something that fit.
I have put this knife through the ringer over the years. It was also the first benchmade I ever owned, and I can tell you now that I am going to be a fan for life. The steel they use holds an edge for a very long time. 
They do not make the exact version I have anymore, but the updated version is just as good, but lacks the hollow circle at the start of the blade. Which is a shame because it is a great beer opener.
Again this knife is a Benchmade, so it is guaranteed forever and also has free sharpening for life. You can obviously tell that I learned how to sharpen a knife with this knife here. The only reason I have not sent it back for sharpening is because it can take up to two weeks and I do not have another everyday carry knife that I like enough. Although, Benchmade does do a fantastic job sharpening their knives. When I got this one it was so sharp that it could slice right through a leather boot….