This article is sponsored by HuntersWholesale.net
Duck hunting is one of the best sports on the planet, but it can require a lot of gear. If you are just starting out it can be difficult to find everything you need, so I compiled a complete list of everything you need to get started, along with some items that are nice to have out in the field. While it is possible to just go sit on the pond with a shotgun and get lucky, there is some gear that you should have if you want to harvest more ducks and geese than average.
The Duck Hunting Essentials
A Hunting License
Of course, the first step to any hunt is to do it legally. So, make sure you buy your duck stamp and educate yourself on the duck limits of the birds in your area. You can check out all the info you need here at the US Fish & Wildlife Service.
Ammo & Firearm
To shoot ducks, you obviously need a firearm. There are plenty of awesome choices of shotguns and every hunter will have their preference, but a few great choices are the Remington 870 (my personal favorite), Mossberg 835, and the Winchester Model 12. If you are picking your first duck gun, this post by Outdoor Life can help you out.
When you are picking your shot size, you can either go with the large shot method, or small shot method. You can shoot a 3 shot load, like I do, and have slightly larger pellets at the expense of having less pellets. Or you can use 4 or 5 shot pellets that have smaller but more pellets, giving you a higher chance of hitting the target. It all depends on what type of waterfowl you are hunting and what method you prefer. Ducks.org has a fantastic guide on this.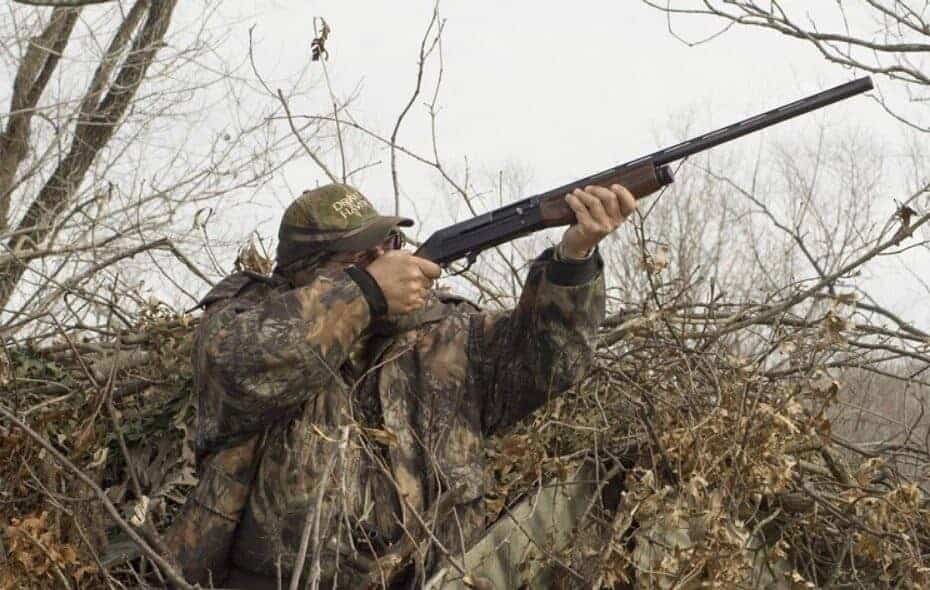 Choke Tubes
Another thing to think about is a choke tube. The idea of a choke tube is to alter the spread or flight of the pellets in one way or another. A choke is something that will definitely help you get more birds. Chokes will help you reach out further and keep your spread tighter. Some of the best choke tubes on the market are the Hevi-Shot, Carlson Cremator, and Rob Roberts Chokes that you can get from my friends over at Hunters Wholesale.
Duck Decoys
The next thing you should think about is getting a few decoys. Now, it is possible to harvest waterfowl by just sitting by the water and waiting for an opportune moment; however, if you want to work those ducks and get more than one or two, you should bring some decoys. Ducks are very social creatures, so if they are circling a body of water, they are much more likely to land in it if they see other ducks/decoys already down there. If you are just getting into duck hunting, I recommend getting some mallard decoys. Ducks like to be social with all other types of ducks, and mallards are the most common, so it is believable to see a mallard nearly anywhere. 
As with most anything in hunting (especially when just starting out) the cheap stuff works just fine. It is not uncommon to see just 3-6 decoys go for over $100 but here are a dozen mallard decoys from Amazon for just $60. You will also need some weights to hold them down, and probably a decoy bag.
Duck Calls
One of the most important things you could bring is a duck call. Calling can be simple but can also get quite complicated when you watch the pros. For a beginner, all you need to worry about is a getting the basics down. Try to get familiar with the greeting, hail, and maybe the feeder call of a mallard. With the same idea as the decoys, all ducks will respond to mallards, and if you are using mallard decoys it makes sense to use a mallard call.
If you do not already have a call, consider checking out Hunters Wholesale. They have some awesome calls for beginners. If you are a little more experienced, they also have some really nice calls for you as well.
Here is a great instructional video by World Champion Duck Caller Jeff Williams:
Headlamps
Duck hunting is an early morning sport most of the time. You can also hunt in the evening, but a lot of the action happens just after daylight. So, you got to get in there early! Unless you can see in the dark I would bring some sort of light, I suggest a headlamp. 
Cleaning Kit/Knife
After a successful hunt, you have got to clean your ducks. Typically, I use a fillet knife. You probably have something that will work just fine, but if you need a good cleaning kit here is an outdoor edge kit from amazon.
If you are not sure how to clean a duck or a goose, here is a great guide by Cabela's.
Hunting Pack
Lastly, you need a pack to put all your stuff in! When just starting out you probably want to use a bag you already have (which is what I suggest), but if you want to get serious and buy a nice pack, you get what you pay for. I prefer to use a smaller pack since I already have to carry a big bag of decoys. Here are a few of my suggestions depending on your price range:
It's easy to shove all sorts of stuff in a giant pack so you are "super prepared", but really the basics will do. It is best to stay small. Here is a quick rundown of what you should have in your pack: 1-2 boxes of shells, duck calls, gloves, facemask, duck hanger, treble hook, and snacks. You can, of course, bring more but that is about all I bring in my pack. 
The Duck Hunting Nice-To-Haves
Waders
If you plan on hunting in a pond, you definitely need some waders. Or at least some knee-high waders. For me, I prefer to wear full waders so I can get around in all parts of the pond, whether it is to get a better position or to retrieve a duck. Although if you have a duck dog and a good set up out of the water, you probably do not even need to worry about waders. Like everything else in hunting, it all depends on your particular circumstance. 
If you would like a guide to getting new waders, here is one from outdoor empire.
Warm Clothing
Duck hunting is fun, but I have withstood below freezing weather hundreds of times while duck hunting. You definitely have to dress very warm. You should have a warm Under Armor type base layer, plenty of middle layers and a heavy-duty outer layer. Luckily, your waders will also keep you warm. I wrote an entire guide about how to stay warm on a cold hunt that you can read here.
You can find all the gear you need to stay warm here at Cabelas.com
Blind
Ducks have a keen eye, and they will be able to see you fairly easily (even with camo) if you are not in a blind. Using a blind can make it much easier to get away with little movements like calling or getting your gun ready. Depending on where you are hunting, you should have a different type of blind. For example, if you are hunting a field, I suggest using a laydown blind. If you are in a swamp or pond, I suggest using a chair with some sort of overhead covering. You can get some great blinds from MOmarsh over at Hunters Wholesale.
Duck Ringer
After a successful hunt, it's time to carry your ducks out. Whether you have to go get them or have a dog, using a duck ringer is an easy way to carry ducks. It is also pretty simple. You just slide their heads into the ring, and they stack on top of each other. Then you just sling them over your shoulder and walk to the truck.
Handwarmers
Since it is often super cold, it's not a bad idea to pick up a pack of handwarmers at a local store the next time you are out. I know that for me, these are a saving grace and make my hunt much more comfortable.
Duck Hunting Dog Gear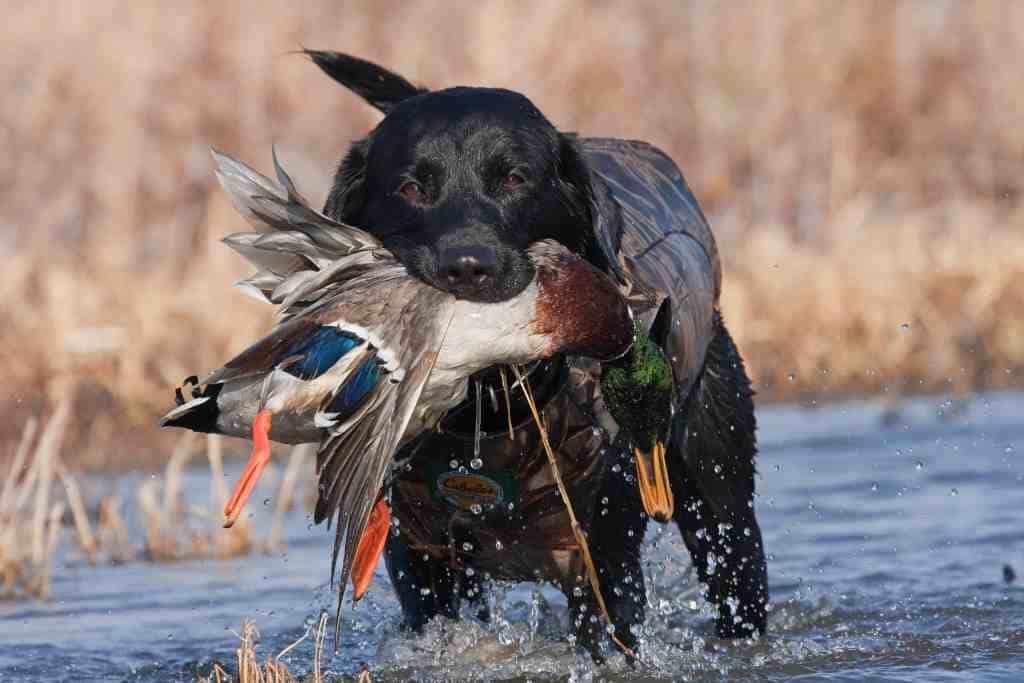 Dog Blind
If you are bringing a duck dog, it is important to also conceal their movement. Although it is a bit harder to get them to sit still than it is a hunting buddy. So, we use dog blinds to keep them hidden from the bird's overhead. This way your dog's movement and excitement will not scare off any birds and he can do his job effectively. Here is a great guide to buying the best dog blind from Hunters Wholesale.
Dog Vest
Your duck dog should also stay protected while out on the hunt. The purpose of a dog vest it to protect your dog from getting hurt/cut, providing added buoyancy, and also keeping your dog warm in that cold weather. The pattern on most vests will also keep your duck dog better concealed. If you want more information about duck dog vests, check out this article by Hunters Wholesale.
Dog First-Aid Kit
It is not a bad idea to have a first aid kit for every member of the hunting team, but dogs are especially important to keep an eye on. If your human hunting partner falls and cuts himself, he can let you know, but some dogs may try to hide it or be shy. So, make sure you are routinely checking your dog before, during, and after a hunt for injuries and be prepared to fix them up if needed.
Travel Kennel
For safety's sake, when you are transporting your duck dog it is a good idea to have a travel kennel. This is especially important if you have multiple dogs on the trip. It is easy to just let the dogs ride in the bed unattended, but it is super dark when you are driving to the blind and that can make it difficult to keep an eye on them.
Conclusion
There can be a lot of things to think about when preparing for a duck hunt. As long as you remember the basics you will be fine. Make sure you have plenty of ammo, decoys, and calls. Along with your hunting pack, and everything you need for your dog. Of course, everything on this list is not essential and I probably missed a thing or two, but hopefully, you got a good idea of what you should bring. If you are prepared, you should get more birds and be on your way to becoming a better hunter.
---
Thank you for reading my article about duck hunting gear. I hope you enjoyed it and learned something you didn't already know. If you like my content, subscribe to my weekly update. If you have any other questions about duck hunting gear or just want to connect, feel free to email me at Patrick.Long@omegaoutdoors.net.